You can order any of Rick's books here, to learn even when you're not in the drum studio.
PLUS, killer DrumWear.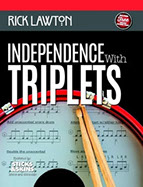 NEWEST BOOK!
Independence with Triplets
This book is an advanced drumming book on one of a working drummer's best tools: Triplets.
Following the success of his first Triplets book, this one covers some advanced techniques useful to players, teachers and working percussion professionals.
Also included with your purchase of this book are FREE online audio files, demonstrating ALL the techniques Rick goes over.

Drum Books by Rick Lawton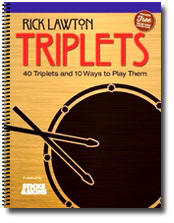 Triplets
40 Triplets and 10 Ways to Play Them
Rick's written this book covering a mandatory part of understanding how to play drums: Triplets.
He's also included 10 ways to play 40 different triplets, making this book a must-have for students, teachers and working pros.
Also included with this book are FREE on line audio files that demonstrate the lessons. These files are playable on computer, phones, tablets, and anything that can access the Internet!
Sticks&Skins Designer Collection

When Rick first wrote the books that we have over on the left, we modified the site to include some "drummers goodies", as we call them.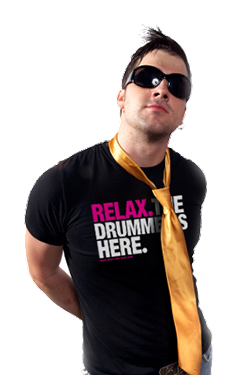 From t-shirts to bumper stickers, mugs and beyond, for both new drummers, professional drummers and anyone who just loves the drums, the Sticks&Skins store has become an international thing.
30 day money-back guarantees, great shipping rates and quality products makes Sticks&Skins the real deal.
It started with the original "Relax" shirts that have been worn (and played in) around the world. And so it continues, with the new look of Rick Lawton's site. More drummer goodies, with the promise of new stuff coming all the time!
The Original RELAX
Drummer's Mug
Price: $16.99